I was at a watch party in Brooklyn last night, anxiously watching the election results come in. There was a huge cheer that went up when Todd "legitimate rape" Akin was defeated in a landslide, and more cheers for our first openly gay senator, our first Asian-American Senator, recreational marijuana being legalized in Colorado, marriage equality passing in three more states, and an amendment to ban same-sex marriage shot down in a fourth. It was a good night for us progressives! When they called it for Obama, the entire bar erupted in cheers!
Do you glue yourself to the TV on election night, or do you prefer to wake up in the next morning and find out then? How are you feeling? Happy, disappointed, or a mix of both? And does anyone know the guy with the beard in that photo? He's adorable.
photo via the New York Times
In case you missed it, Obama came out in support of same-sex marriage yesterday, marking the first time in our history that a sitting President has done so. So exciting!
This a huge victory for those of us fighting hard for marriage equality, and welcome news after Tuesday night's blow to civil rights in North Carolina.
We'll keep fighting until everyone can marry whoever they choose to love. Can I quote a negro spiritual here? I am totally going to:
We shall overcome.
One of Kevin and Carmen's cats, who hopped up on the dining room chair for post-dinner conversation and fish scraps.
My girl Patrice doing "the cheesecake dance" which is the Running Man, but while holding a cheesecake.  Yes, she is wearing a New Kids on the Block tee shirt, because she is awesome.
Sunday afternoon post-brunch snoozes.
I met this lady at a housewarming party, and I can't remember her name.  That laugh rocked my world.
This is the photo immediately before the "brave" raw fish holding photo.  It is more truthful.
"…you've always tried to make choices that are right for you and the people you love. Give it some more time and a little more thought, and I'm sure the right thing for you to do will present itself without question." – Jen
I've been thinking a lot about my "name" issue and reached a conclusion. But I gotta 'splain, so check it, yo.
There were a lot of you all in favor of me switching to Rob's last name. I like the concept in a vacuum, but my point of hesitation is the one where everyone thinks: "Oh, she just took his name because she's the woman and he's the man."
Also, I'm 27, and this is my third name. That's an average of being named less than once a decade. Enough already, you know! In each case, the name was given to me because of a man handing it down, and that makes my feminist sensibilities twitch. I've never had my "own" name, and while that's not the biggest deal in the world, it bothers me a tiny bit.
Najla pointed out that I could take this opportunity to switch my last name to whatever I wanted, even though I'm married. It had occurred to me, too, but I dismissed the idea as being too… something. Maybe the word is just plain "lonely". I realized that the end of the day, I not only want a new name, I really do want to share a name with Rob, no matter how clunky the end result is. There are three options for that: he changes his name to mine, I change my name to his, or we both pick something new. Because of his family ties, he isn't willing to change his name, and I respect that.
So that's part one.
Part two.
This is not a photo of me.  Duh.
We do have the same name, though.  Amber Lynn came (hehe!) onto the porn scene in 1984 (I was born in '82), and is one of the better known porn stars, even today (partly because of her charity work). As you can imagine, my middle name doesn't see the light of day much.
It was chosen for me because it's my mother's middle name, and Amber Lynn is pretty enough I suppose, porn connotation aside, but as long as I'm shedding old names, I figured, why not get rid of the moniker of this porn star and make a new name for myself? It will also be nice not to have the middle name of someone who told me I was worthless and stupid, and left scars on my body from the physical assaults.  You know?
So that's part two.
Part three, of course, was picking a new middle name, which I narrowed down to two requirements:
1. It had to sound plausible as a last name. This clears up the whole "I've never had my own last name" issue, at least to my satisfaction. To get a good list to choose from I went to babynames.com and looked at the names considered gender neutral. This worked well; virtually all made great sounding family names.
I wanted it to sound like a surname so that it reads as a maiden name, sort of like Hillary Rodham Clinton (no hyphen). I like that; you can call her Hilary Clinton, but if you're being proper, you use all three names, and that's how I'm treating the middle name for me, too. Holly inadvertently gave me this idea, and I'm giving that my own twist.
2. The second requirement is that it just had to start with M. Here's the part you start wondering what I'm smoking, but bear with me. The M is a sturdy letter, visually. It has two strong, wide-set feet. You pronounce it only one way as far as I know; the M knows what she's all about. By using a lot of them, you can say "yes" in a sassy way, as in "Mmmmmhmmm!", and the "Me and My M" song was always my favorite Sesame Street cartoon. (If you think this last bit, a one and a half minute song from Sesame Street, could not possibly have factored into my picking a name for myself, you are so wrong.)
So there it is. I go to probate court in my official hometown of Trumbull, Connecticut, turn in the papers, swear I'm not trying to commit fraud, write a check and I am newly, legally christened. (And yes, I'm a libertarian and think that having to file with the court to "officially" do ANYTHING is ridiculous, but that's the way it is.)
The hardest part about all this is You.
Well, maybe not YOU, but someone.  Someone isn't going to "get it".  Someone is going to hear what I've done, and they're going to roll their eyes.  Someone is going to call me silly, stupid, and over-dramatic.  Someone is going to make fun.  And I get it, because as much as I believe in this, I am fully aware that it is "weird".  It doesn't feel weird to me, it feels wonderful!  But it IS weird, and I'm self-conscious of that. I'm blessed with a pretty thick skin and the full knowledge that not everyone needs to approve before I do something, but it is still going to be really hard to break this news to the more judgmental people in my life who will need to know. (Though I called my grandmother and told her, and she's pretty happy, and Rob is happy, so haters be damned!)
So! WHAT THE HELL IS IT ALREADY?! Ready?
Amber Marlow Blatt
OMG! I typed that and now I'm crying! I'm happy! Please be happy with me!
It's a big name, I know.  A mouthful.  The name equivalent of unbuttoning my pants and letting my big old belly hang out, standing in the middle of the room with my feet planted in a wide stance (just like the letter M), stopping up the flow of traffic at the house party, I'm-in-your-way-and-I-like-it kind of name. The Marlow softens it, I think, kind of a cushion to your forehead after the Amber, and right before the Blatt knocks you, twack! like a two-by-four. It's quiet, and warm and solid.
Everyone has to make their own path in life, I just wish that mine wasn't so strange, sometimes. In the end, though, if I get to be here, it was worth it. Plus, hey! It's the Amber show. I can do whatever I want.
Rock.
Today is my second wedding anniversary. I know this because I wrote it down last week, after Rob looked up from writing on the calendar and said, "Do we have anything May 5th? I feel like we do."
"I don't think so, but it sounds familiar… hm. Nope, nothing on my calendar for that." We racked our brains for a minute before it clicked. We just aren't sentimental about it.
On Sunday night, my mother-in-law mentioned it excitedly, and asked if we had big plans. We didn't. "Very romantic!" she said, sarcastically. But we don't care.
There are Rob-related moments that mean a lot more to me than May 5. I remember the date we got engaged, April 22, and the date we first met, August 4. There another date I remember, too, but, you know, I'll spare you, because if I told you the first time we decided to duet and it turned out to be your birthday, THAT WOULD BE AWKWARD.
I don't remember all the important dates, though.
What I'd really like to remember, and can't, is the first time I looked in my wallet, realized I didn't have cash, and found his to take out a twenty. When did we become money stealing close? When did we reach the point that we started showering together occasionally for no other reason than to save time? How did I forget to take note of the beginning of the dictionary of inside phrases and jokes and songs we have? Shouldn't I be celebrating the fact that he will always get out of bed and shut the window, or get me another blanket, if I'm cold? Furthermore, when was the first time he got out of bed, found wool socks, and put them on my ice cube feet for me so I wouldn't have to stick my arms out into the frigid room to do it myself? I wish I thought to write that one down, because he does this on a fairly regular basis, and if that doesn't deserve a party that what does? Also, when did it become ordinary to ask of each other, "Smell. Is my breath horrible? HAAAAHHHH!"? Because I really like that I can do that.
May 5, 2007 was fun, but it wasn't what it should have been. Things I tried to make happen never materialized, and things that should have never, ever happened went on while I watched helpless (and no, Jen, it wasn't you forgetting the ring!) I didn't feel the way I should have felt, and if I could go back and choose between not having a wedding at all or having the wedding we did, I would have eloped because, in the end, there was only one thing I really cared about, and I would have gotten him either way. He was the best part of the whole thing.
(Well, him and that cake.)
And now for something completely different.  Politics.
On November 5, Carissa and I tried to get people's opinions on what had happened the night before; we were hoping to generate an Obama-lovefest on video. The problem was that no one wanted to talk about it. We got a lot of "yeah, I'm way too tired, I need a break from thinking about it." Even people who confessed they were "really excited" about him winning were just too weary, and I feel like that is the general feeling of a lot of people, even now.
However, folks, it's time to pay attention. Four years from now the Republicans are going to come up and go "tappity-tappity-tappity-tappity-TAP! CHALLENGE!"* and it's important that Obama supporters (regardless of what side of the aisle they sit on) are preparecd to say, "Give this guy four more years." Or not. He might be a huge fuck up, and not deserve it. My point is that if you don't follow along with what's going on, you'll never know for sure.
I've found this website called What is Obama Doing? So far been the easiest way to keep up with this presidency for me. Full disclosure, they seem to be biased towards a pro-Obama stance, which I don't appreciate from a news source, but it's really only a blog that posts other news sources, so I deal. Just a heads up. If you come across anything similar, especially one with a more critical view of the current administration, I'd appreciate knowing about it.
—
* I am referring to one of the greatest scenes in the history of the Cosby's on television. It features the late great Howard "Sandman" Sims tapping his heart out. He used to challenge tap dancers all over the US to dance offs, even in his 70′s and 80′s, and the legend goes that he never lost. I'm pretty sure you can blame my father for my love of this clip (the black one, that is. I have two. I have to clarify.)
Mrs. Obama looked stunning in her Inaugural Ball gown (designed by the 26-year-old Jason Wu), but when Dr. Biden walked, nay, floated out in her Reem Acra, I just about slid of the couch. She was amazingly gorgeous. I get the impression that Vice President Biden isn't the tightest cannon the White House has ever seen; does he seem goofy to you? He does to me; I described him earlier as similar to "a fun, drunk uncle that makes the young people laugh and adults embarrassed at Thanksgiving." I dug it at first, because Lord knows we can use a VP that makes us smile instead of shudder, but I wonder if he's a bit too goofy?
Either way, he has one pulled-together wife behind him, and hopefully she'll be the steady support that will ground him and his goofy-grinning self when need be.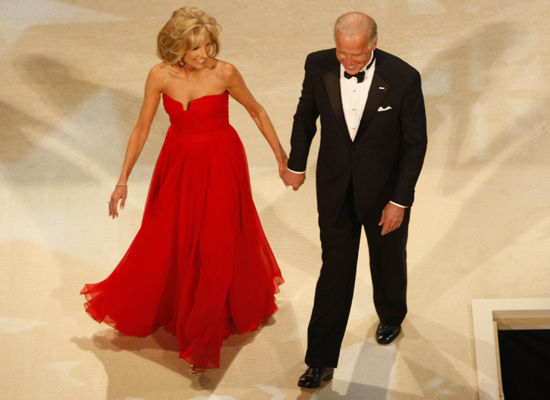 "I may not be able to dance, but I sure like holding her," said the VP. We know, Joe, and we don't blame you.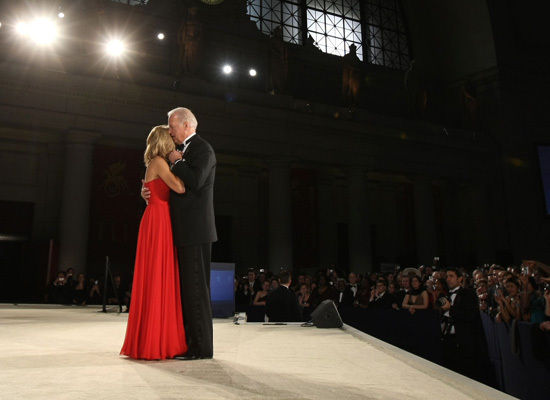 The strappy shoes, dangly earings and barely-there gold bracelet was all the embellishment she opted for, and it was a great move. Cheers to Jill Biden!
My response to this blog post by Gealouxy, which I've this quote out of.
So, will everyone just shut up about him being the first black president? It doesn't really look or sound good and it alienates everyone else. At the end of the day, the color of his skin will not matter.
I thought about this for a while.  My conclusion is this: I don't think anyone needs to "shut up" about him being the first black president.  It's an historic event, and it's worth talking about, being happy about, and celebrating.  In fact, intelligent people who did NOT vote for Obama, are disappointed he won, and disagree with his politics are ecstatic for what his win means for Civil Rights Movement.
It doesn't look or sound "not good" to talk about it; on the contrary, it would be ridiculous to ignore it.  I don't see how it can alienate anyone (well, maybe those that hate Civil Rights… I'm not afraid of offending them.)
Of course, there needs to be a line drawn between two things: the historical event that is having the first black President and the presidency of Barack Obama, the man himself.  I think most people find this easy to do.  You can be thrilled at the first while simultaneously being devastated at the second, or you can be happy for both, like I am.  Hey, you could even be a racist and hate that there's a black man in the White House even though his political ideals align with your own.
I'm sad for everyone who voted for him JUST because of his skin color.  That's very unfortunate, but I don't think it's where most people are.