When we moved to the city I told Rob that, should we ever have to move back to the suburbs, I'm getting a hot tub. I loved living in Trumbull because my friends where there and now that I'm gone, I miss the four gazillion parks and the fact that I could drive to Target without paying $4 for parking every time, meaning I could go without making a list and checking it over and over obsessively, because heaven forbid I get home from a Target run in Brooklyn and realize I forgot the fabric softener; you can't just hop back in your car and drive back without dealing with the traffic and the parking fees, and I will never, ever be ok with this.
But at the end of the day I'd rather be here than there, however if I was THERE… I'd have a hot tub. And it would probably be one of these.
Believe it or not, I was recently wondering about the logistics of having a hot tub heated by firewood (and the only conclusion I reached was building a fire underneath, cauldron-style, which wouldn't really work that well obviously), and then lo-and-behold I came across this ingenious wood-heated hot tub solution, with the fire off to the side so you can be toasty but not cooked alive.
It looks a little weird, but it would save a ton on electricity and you could use it without chemicals. Actually I think it's pretty cute! And it's very portable, so I could take it camping!
It's designed to be carried easily by two people (it weighs about 165 pounds) and has an optional rack that makes it very easy for one person to move around.
I wonder if I could get one of these in Brooklyn? Probably. It looks like these people did!
Hey, Rob…?
available at dutchtub.com, $6000
p.s. Now I know why these look mildly familiar: Kirby!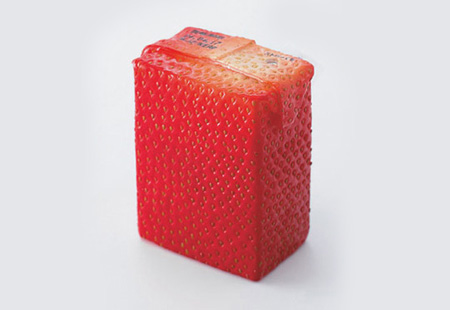 Japanese designer Naoto Fukasawa made a series of fruit juice packages that look like fruit. I'm not clear from the article if they contain the actual fruit juice inside, as I can't imagine drinking JUST strawberry juice. Maybe it's a blend?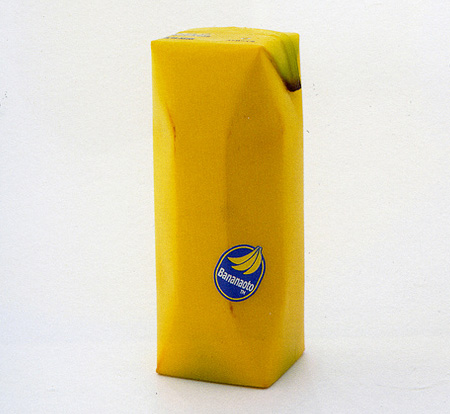 Here's the banana one, which must be a banana blend of some sort.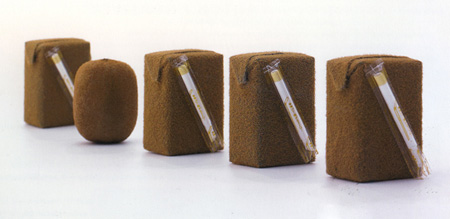 This kiwi one is pretty cool, although I can't help but think it contains "Teddy Bear juice".
via toxel.com
Tepee, $2200
Both environmentally friendlier and much prettier than a standard tent. It's designed to have a minimal impact where it's pitched; it doesn't kill the grass it sits on.  The 100% cotton fabric is mildew and water resistant.  Other features include reinforced stress points, critter-proof floor design and gorgeous pine poles for support.  Just add one campfire, a motley crew of guitars and harmonicas and a few ghost stories. Perfect!
at dwr.com
————————————————————————————
15″ MacBook Pro with 2.53GHz, $2500
I asked all of my friends what they wanted for the holidays, and this was Brian's pick.
at apple.com
————————————————————————————
Muppet Whatnot Gift Kit, $130
What's a Whatnot? A Muppet extra on the Muppet Show!  This kit allows gift recipients to design their own Whatnot and have it made on the spot at the FAO Schwartz store in NYC.  Starting in February 2009 you will also be able to send away for it.  Then they get to keep it!
at fao.com
————————————————————————————
Handel's Messiah Sing-a-long, $12
You'll have to give this gift a bit early, but that's alright!  Get into the Christmas spirit with the West Village Chorale's annual sing-a-long of Handel's Messiah.  It takes place this coming Monday, December 15 at 7:30pm.  You don't actually have to sing, either, you can just go and listen… but where's the fun in that?
Photo by my friend Tracy, who I love more than pancakes.
————————————————————————————
Wall-E (Three-Disc Special Edition + Digital Copy), $23
Pure Pixar genius.  This three-disc special addition DVD has tons of cool extras including featurettes on the creation of the movie, animated shorts, and tons of deleted scenes.  Waaaaaalllleeeeee!
at amazon.com
————————————————————————————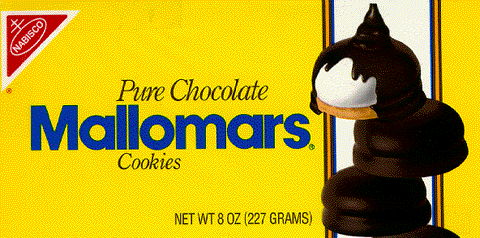 Mallomars 3-box Value Pack, $16
Along with his old hair line and a new apartment, my buddy Jeff says he would like a lifetime supply of Mallomars for Christmas.   My mother-in-law also loves these.  Because they melt easily, devoted fans stock up in the winter for the hotter months when stores don't sell them.  Both Jeff and Mrs. Blatt are New Yorkers, which makes sense: 70% of all Mallomars sold are sold in metropolitan New York.
————————————————————————————
Freaks & Geeks: Yearbook Edition, $130
Why this show only got one season I don't know.   It's easily one of the best television shows of our time.  This special edition DVD set includes actor auditions, and most episodes have two audio commentaries each.
at amazon.com
————————————————————————————
Charley Harper: An Illustrated Life, $126
Charley Harper died in June of last year.  He was a modernist that inspired, and continues to inspire, many other artists, including noted designer Todd Oldham who edited this tome. I would love to have gorgeous book to refer to over and over, so it could inspire me, too.
at amazon.com
————————————————————————————
Set of nine hand-printed cards, assorted, $24
Eliza Jane Curtis is the artist behind Morris & Essex. Her work is a combination of Gocco (a type of printer that prints a very fine ink) and traditional silkscreening. This listing is for a "grab bag" of 9 cards. I love the combination of earthy paper with bold colors.  So me!
at etsy.com
————————————————————————————
Flight of the Conchords – The Complete First Season, $24
They call me the Hiphopopotamus
Flows that glow like phosphorous
Poppin' off the top of this esophagus
Rockin' this metropolis
I'm not a large water-dwelling mammal
Where did you get that preposterous hypothesis?
Did Steve tell you that, perchance?
Steve.
at amazon.com
————————————————————————————
Vers hand crafted wood ipod speaker, $180
Sustainable materials, good design and great quality. I've been drooling over these for a while. The reviews are great, too. If you're buying this and have an old iPod dock you would like to trade in, go through Vers Audio, the company that makes them, for $30 off. If you don't, it's slightly cheaper at Amazon.
at amazon.com